Chocolate on colored clothes
How to remove the stain on your laundry with: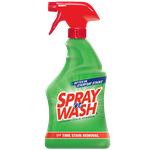 Spray 'n Wash® Pre-Treat Laundry Stain Remover Trigger, 22 Ounce
Better on everyday stains* *vs. detergent alone
Spray 'n Wash® Trigger
Pre-Treat 
1.
Turn nozzle to "on" position.
2.
Spray onto the stain, covering it completely.
3.
Wait 5 minutes maximum.
4.
Wash according to care label instructions in the warmest water recommended
Didn't find the solution you were looking for?
Expert Tips
Often a chocolate stain may leave a faint oily mark if removed without a detergent product; make sure to check for this before drying the stained item otherwise this mark will become very difficult to remove.
Remove as much chocolate as possible with a knife or spoon, being careful not to spread it further.
Gently rub in some soap to the damp chocolate stained area and dab with a damp cloth to break up the stain.
Use clean water to rinse and then blot as much fluid out of the stained area as possible with a clean cloth or napkin.
Related Articles
Chocolate stains... is there a single person in The United States who's not had to battle them at some point? Chocolate stains are one of the most common when it comes to things that stain people's clothes. Spray 'n Wash® knows that whilst we all love chocolate; we hate the stains it can cause! Don't panic though, if you have Spray 'n Wash® trigger™ in your household, getting chocolate stains out of clothing shouldn't be a problem. Simply follow our instructions below for great results.