Cooking oil on colored clothes
How to Remove The Stain for Clothes use: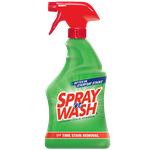 Spray 'n Wash® Pre-Treat Laundry Stain Remover Trigger, 22 Ounce
Better on everyday stains* *vs. detergent alone
Spray 'n Wash® Trigger
Pre-Treat 
1.
Turn nozzle to "on" position.
2.
Spray onto the stain, covering it completely.
3.
Wait 5 minutes maximum.
5.
Wash according to care label instructions in the warmest water recommended.
Didn't find the solution you were looking for?
Expert Tips
Our top oil & grease stain removal tip is to attack the stain rapidly! Oil & Grease stains will become more difficult to remove later if you don't treat them immediately as they start to set into the fabric.
Take a clean, damp paper towel or cloth and dab the oil stain for a few minutes. Be careful not to spread the stain.
Follow Spray 'n Wash® instructions as above.
Related Articles
Cooking oil & olive oil stain clothes all the time. Many people will throw away clothing (especially whites) affected by this everyday kitchen stain, but with Spray 'n Wash® Trigger™ in your cupboard you can be rest assured that getting rid of oil stains will be easy.