Gravy on colored clothes
How to Remove Gravy Stains with:
Spray 'n Wash® Trigger™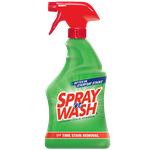 Spray 'n Wash® Pre-Treat Laundry Stain Remover Trigger, 22 Ounce
Better on everyday stains* *vs. detergent alone
Spray 'n Wash® Trigger™
Pre-treat
1.
Turn nozzle to "on" position.
2.
Spray onto the stain, covering it completely.
3.
Wait 5 minutes maximum.
5.
Wash according to care label instructions in the warmest water recommended
Didn't find the solution you were looking for?
Related Articles
Breakfast wouldn't be the same without gravy, but it can create some tough stains