Ink on colored clothes
How to remove ink stains with Spray 'n Wash®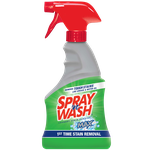 Spray 'n Wash® Max™ Pre-Treat Trigger
Removes Tough Stains Like Grease & Motor Oil
Spray 'N Wash® Max™ Trigger
Pre-Treat
1.
As soon as you can, spray the stained area with Spray 'n Wash® Max Trigger™, covering it completely.
2.
Wait up to 5 minutes before rubbing into the stain.
3.
Wash according to care label instructions in the warmest water recommended.
Didn't find the solution you were looking for?
Expert Tips
An ink stain is one of the toughest stains to remove, so remember to have patience!
Related Articles
Having a pen handy at work is always a good idea. But an ink stain on your shirt is never a good thing, no matter where you are. Don't worry, Spray 'n Wash® has the solution to effectively get rid of ink stains