Motor oil and grease on colored clothes
How to remove Grease & Motor oil stains with Spray 'n Wash®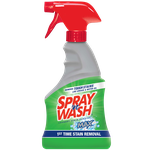 Spray 'n Wash® Max™ Pre-Treat Trigger
Removes Tough Stains Like Grease & Motor Oil
Spray 'N Wash® Max™ Trigger
Pre-treat
1.
Turn nozzle to "on" position.
2.
Spray onto the stain, covering it completely.
3.
Wait 5 minutes maximum.
5.
Wash according to care label instructions in the warmest water recommended.
Didn't find the solution you were looking for?
Expert Tips
If grease or motor oils stains occur, you should treat the stain immediately with hot water, allowing the fabric to remove the stain thoroughly.
Scrape as much as grease or motor oil as possible with the spoon, being careful not to press the stain too hard. Blot the grease stain with paper towel, using a lifting motion until no more of the stain comes off on the paper towel. When home, follow instructions as set out above for best results.
Related Articles
Grease and motor oil stain clothes all the time. Many people will throw away clothing affected by these stains after tinkering with a car or small appliance. However, with Spray 'n Wash® Max Trigger™ in your cupboard it is possible to remove grease and motor oil from household fabrics.