Mud and Clay on colored clothes
How to remove mud and clay stains with Spray 'n Wash®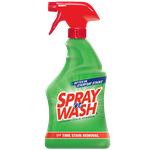 Spray 'n Wash® Pre-Treat Laundry Stain Remover Trigger, 22 Ounce
Better on everyday stains* *vs. detergent alone
Spray 'n Wash® Trigger
Pre-treat
1.
Turn nozzle to "on" position.
2.
Spray onto the stain, covering it completely.
3.
Wait 5 minutes maximum.
5.
Wash according to care label instructions in the warmest water recommended.
Didn't find the solution you were looking for?
Expert Tips
Our top stain removal tip is: Do not rub the stain or try to wipe it whilst mud is wet, this will lead to smearing. Let the mud dry and treat it at home.
Let the mud dry thoroughly; do not attempt to wipe off the mud. It will only smear the stain onto more of the clothing.
Once the mud stain has dried, try shaking or vacuuming the area to remove dried clumps of mud. Rinse under water when complete.
Related Articles
Children seem to love rolling around in mud whilst playing outside - I guess we'll never understand why! With Spray 'n Wash® there's no need to worry about mud and clay stains as our powerful stain remover takes the hard work away for you. Follow the instructions below to get started.