Purlpe fruit juice on colored clothes
How to remove Juice stains using: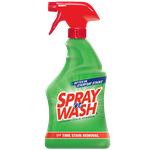 Spray 'n Wash® Pre-Treat Laundry Stain Remover Trigger, 22 Ounce
Better on everyday stains* *vs. detergent alone
Spray 'n Wash® Trigger
Pre-treat
1.
Turn nozzle to "on" position.
2.
Spray onto the stain, covering it completely.
3.
Wait 5 minutes maximum.
5.
Wash according to care label instructions in the warmest water recommended.
Didn't find the solution you were looking for?
Expert Tips
Our purple fruit juice stain removal tip is, as soon as you see the stain, put cold water on a cloth and scrub the stain on your clothing. Leave it to dry.
Treat stain as quickly as possible.
Rinse the stained area with cold water.
Let the stain stand for at least 5 minutes before rinsing hot water through the back of the stain over the sink. Making the water as hot as you can will force the stain back out through the fabric.
Rinse thoroughly.
Related Articles
Fruit juice stains are very common and can occur at any time during the day; whether at work or at home. Many people think a fruit juice stain is permanent and that the clothes affected are ruined but Spray 'n Wash® Trigger™ can really help remove fruit juice stains easily. Follow the instructions below for best results.