Sweat on colored clothes
How to remove sweat stains with Spray 'n Wash®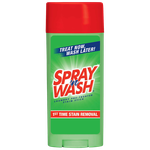 Spray 'n Wash® Stain Stick®, 3 Ounce
Treat Now, Wash Later
Spray 'n Wash® Stain Stick®
Pre-treat
1.
Apply Spray 'n Wash Stain Stick onto the stain, rubbing into fabric and covering the stain completely.
2.
Wait 1 minute or up to a week before washing.
3.
Wash according to care label instructions in the warmest water recommended.
Didn't find the solution you were looking for?
Expert Tips
Avoid putting your shirt on for around 30 seconds after you have applied deodorant; this will give your deodorant time to dry and should reduce the chances of a stain occurring.
As soon as you can soak the garment for an hour in warm water.
Wash as usual, (check washing instructions).
Underarm sweat stains occur when anti-perspirant ingredients mix with the natural salts in sweat. Many deodorants contain aluminium compounds to reduce moisture. This aluminium is behind the stain build-up and yellowing of fabrics. You're most likely to find these stains occur after continuous wear rather than suddenly appearing.
Featured Articles
Sweat stains... The harder you work the more likely they become! It's often difficult to work out if the sweat stain has been caused by perspiration, or if the stain is a result of the deodorant you've been using. Spray 'n Wash® Stain Stick can deal with both and this means you never have to worry about sweat staining your clothes again.